---
COMFORT AND FREEDOM
Tastes are different – which is why we left this choice up to you. For your CORE XC wing you can decide whether you prefer a wrist or waist leash. The hand leash is less likely to tangle with your potential board leash, whilst the waist leash offers maximum freedom during maneuvers or paddling for both of your hands. Both come with a super stretchy leash that offers maximum grip. The connection to your wing is a loop which makes connection mistakes or unwanted openings barely possible. The swivel ensures that your leash remains tangle free, even after multiple rotations.
PRICE*
Waistbelt Leash
49,90 EUR
Leash Wrist
39,90 EUR
*suggested retail price.

Pricing may vary.
---
COILED BOARD LEASH 9' / 7mm
ITS YOUR CHOICE
Our Coiled Board Leash offers multiple options to connect. On delivery, it comes with a cuff that fits both your calf or your ankle depending on your preference. It also has a smart key sleeve inside that gets secured by a velcro. A quick and easy release is ensured by the large quickrelease loop.
With the supplied Allen key, you mount a the belt attachment instead of the cuff. This velcro connector is a compact way to attach your leash to your belt. The swifel on both ends of the leash prevents tangling whilst the 9' length ensures always enough distance between you and your board in case of a crash.
PRICE*
Coiled Leash 9ft
49,90 EUR
*suggested retail price.

Pricing may vary.
---
CORE Pump 2.0 L/XL
The CORE pump is re-invented! Although our shiny new black pump features a longer barrel, ergonomic hand grips, a fatter hose and a redesigned base, its biggest innovation hides inside. Internal pump friction is virtually eliminated and our "Sand Guard" air filter prevents internal damage from sand inhalation. Although our wings do not need an adapter, we included one anyways for other wings. Check out the innovations we built into this pump.
NO STRAIN PUMPING
Save your energy for the water. Innovative materials, seals and piston coatings have virtually created a frictionless pump. We even increased the diameter of the hose outlet to increase airflow and reduce pump strain.

SAND GUARD
Sand belongs on the beach, not in your kite. So we built a foam air inlet filter into the handle. Why, you ask? To prevent sneaky sand from damaging your kite bladders and reducing pump efficiency.
SINGLE TO DOUBLE STROKE INFLATION SWITCH
More pressure with the turn of a knob. The last few pumps are always the hardest with a 2 way pump. So we decided to give you the option to switch from traditional double stroke to single stroke pumping for the last bit of air.

DIGITALLY CALIBRATED PRESSURE GAUGE
Perfect pressure every time without guessing. The new digitally calibrated pressure gauge has a simple colour coded scale to make precise inflation a breeze.

LONGER BARREL, LONGER STROKE FOR MORE AIR VOLUME
We extended the barrel a few centimeters from the previous model to provide a more upright pumping posture. The additional length also increases pump volume with each stroke. Your back will thank you.

ERGONOMIC GRIPS
Our longer, wider ergonomic grips make pumping a breeze. The grips contour to your palm and fingers so you can leverage your body weight without leaving marks.

HEAVY DUTY PUMP TETHER WITH A NIFTY HOOK
Pumps are often neglected. So we built our new CORE Pump 2.0 to last. We even doubled the thickness of the tether and installed an oversized hook. Because we understand.
PRICE*
Pump 2.0 L
54,90 EUR
Pump 2.0 XL
59,90 EUR
*suggested retail price.

Pricing may vary.
DELIVERY INCLUDES
CORE Pump, Bag
---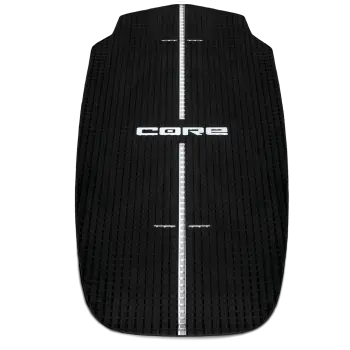 ROAMER TRACTION PAD
Full length, waxless grip. Deep, grooved, longitudinal channels provide extreme grip and hours of barefoot comfort. Our minimalistic front pad design covers almost the entire board so you have a lot of real estate to play on. And it features a small foil kicker that provides excellent feedback to your back foot. The self-stick pad lines up nicely over your strap inserts so you don't have to drill any holes if you choose to go strapped.
PRICE*
Pad ROAMER S
139 EUR
Pad ROAMER L
139 EUR
*suggested retail price.

Pricing may vary.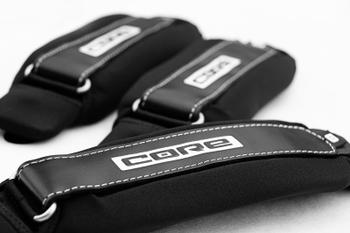 Surf Straps
There if you need 'em. The CORE Wingfoil Strap set features three super comfortable Velcro straps, six V2A stainless steel screws, and six V2A anti-twist plates with variable screw positions. Our fully adjustable straps feel great in bare feet or booties with just the right amount of support.

PRICE*
Surf Straps for Foilboards (set of 3)
114,90 EUR
*suggested retail price.

Pricing may vary.
---
SPARES AT HAND
Loosing a screw goes quick - especially on sand or grass. For that reason, we offer all different screws as spare sets. The mastbase and Slotnut set to connect foil and board, the mast set to connect mastbase and fuselage and the fuselage set to mount your frontwing and stabilizer.
PRICE*
Foil Fuselage Screw Set
10,90 EUR
Mast Screw Set
10,90 EUR
Foil Mastbase Slot Nut + Screw Set
26,90 EUR
Anti-Corrosion Paste (Screw Paste)
10,90 EUR
*suggested retail price.

Pricing may vary.
---
TROCKENE SACHE
A robust multi purpose bag, which carries not only your wetsuits to and from the spot. Prevent your car from salty stains thanks to the waterproof sealed seams. The rigid PVC fabric keeps the bag in shape and ensures easy cleaning.

SPECS
Size: ca. 55 x 35 x 35 cm / ca. 22 x 14 x14 inches
Weight: ca. 1kg
FEATURES
Adjustable straps to carry it over your shoulder or by hand
Spacious mesh pocket to store your smaller pieces or accessories
Slim outside pocket including a key-hook and a handy beach wallet
PRICE*
Wetsuit Bag
69,90 EUR
*suggested retail price.

Pricing may vary.
---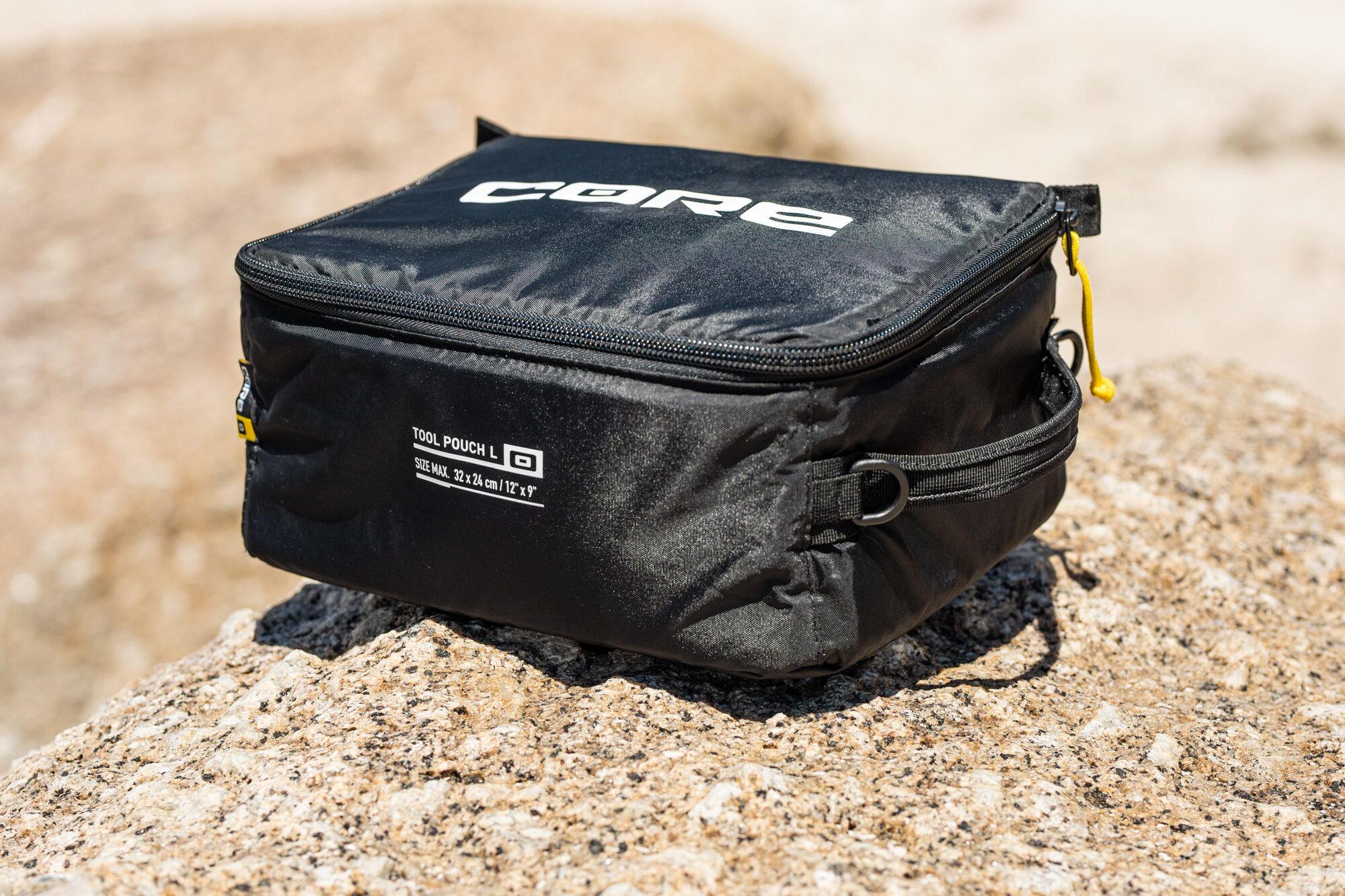 PRAKTISCHE TOOLBOX
Every kiter needs a practical bag for their kite accessories, tools, fins, leashes, wax, and loops. Two inner pockets secure screws and small parts. And thick padded walls keep your lunch and beer cold too ;)
Dimensions: approx. 32 x 24 x 16 cm / 12 x 9 x 6 inches
Volume: ca. 12 Liter / 730 cubic inches
Weight: ca. 0,35 kg / 0,77 lbs
Optimal protection: 10mm PE foam padding provides excellent protection and insulation while maintaining its shape.
Inner pockets: Two transparent inner pockets is perfect for small parts, screws, etc.
420 HD Nylon: Our lightweight nylon features an extra-strong weave and unique finish to significantly improve tear-resistance and sensitivity to dirt over conventional polyester fabrics.
PE Foil Fabric: Light, waterproof, and cleanable inner lining.
#10 YKK Racquet Coil Zipper: Our extra strong spiral zipper is designed for heavy-duty applications where abrasion resistance is critical.
PRICE*
Tool Pouch Large
44,90 EUR
*suggested retail price.

Pricing may vary.