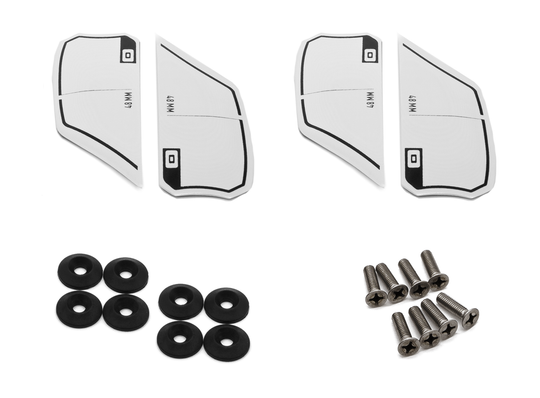 EQUALIZER 3 FIN SET
(48mm)
Our biggest fin, the Cutback, is designed for extreme grip in any conditions. Aim high, go big and let'r rip with this finely tuned G10 fin. G10 is a continuous filament, woven, fiberglass that we specifically use on all our fins for its super high strength and dimensional stability

Delivery includes
Fins (4 pcs.), screws and washers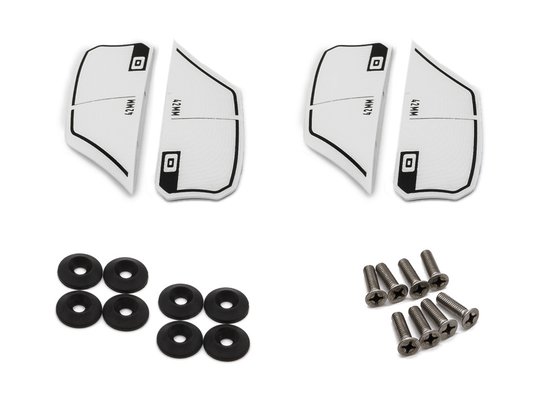 EQUALIZER 3 FIN Set
(42mm)
Our midsize G10 fin balances sure footed grip and playfulness. Not just for pros but for anyone ready to immerse themselves in all things freestyle. The Pro Fin. For easy stance switches, smooth recoveries and toothy grins.

Delivery includes
Fins (4 pcs.), screws and washers
Twintip Fins
PRICE*
Equalizer 3 Fin Set 42mm
89,90 EUR
Equalizer 3 Fin Set 48mm
89,90 EUR
*suggested retail price.

Pricing may vary.
---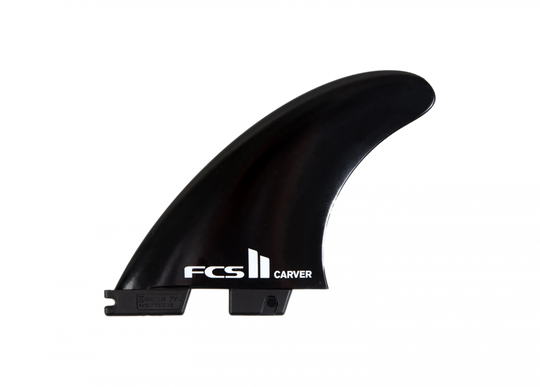 FCS II Carver GF Tri Set
Glass Flex Fin, large
The Carver allround fins feature a broad powerband and GF or glass flex construction. The injection molded design delivers powerfully controlled sweeping turns with speed and momentum. The large size handles loads of back foot pressure and rewards power surfers with down-the-line magic.

Delivery includes
Fin set (3 pcs.)
FCS II ACCELERATOR PC TRI Set
PERFORMANCE CORE FIN, LARGE
This high-quality all-round fin impresses with a perfect balance of speed, flow and response with added control. It is particularly suitable for medium to high skill levels and almost all conditions. Ideal for wave kiters who like to attack the wave, perform aggressive turns and surf overhead waves. The flex pattern in Performance Core fins extends progressively from the base through to the tip, helping the surfer to maintain drive and hold through a turn.

DELIVERY INCLUDES
Fin set (3 pcs.)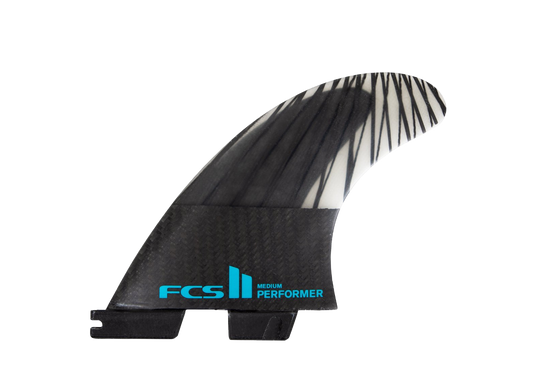 FCS II Performer PC Carbon Tri Set
Performance Core Carbon Fin, Large
The PC Carbon fins are the ultimate choice for your CORE board. Strategically placed carbon fiber filaments give the tips a superior flex pattern and memory. Experienced riders will feel the added control, response, and flow when loading the fins, especially on critical sections of the wave. And aggressive riders will prefer the powerful, explosive style of the slightly oversized allround shape.

DELIVERY INCLUDES
Fin set (3 pcs.)
SURFBOARD FINS
PRICE*
FCS II Carver L Glass Flex Wave Surfboard Thruster Fin Set
49,90 EUR
FCS II Accelerator L Performance Core Wave Surfboard Fin Set
104,90 EUR
FCS II Performer L PC Carbon Wave Surfboard Fin Set
129 EUR
*suggested retail price.

Pricing may vary.
---