HALO PRO
CHALLENGE ANYTHING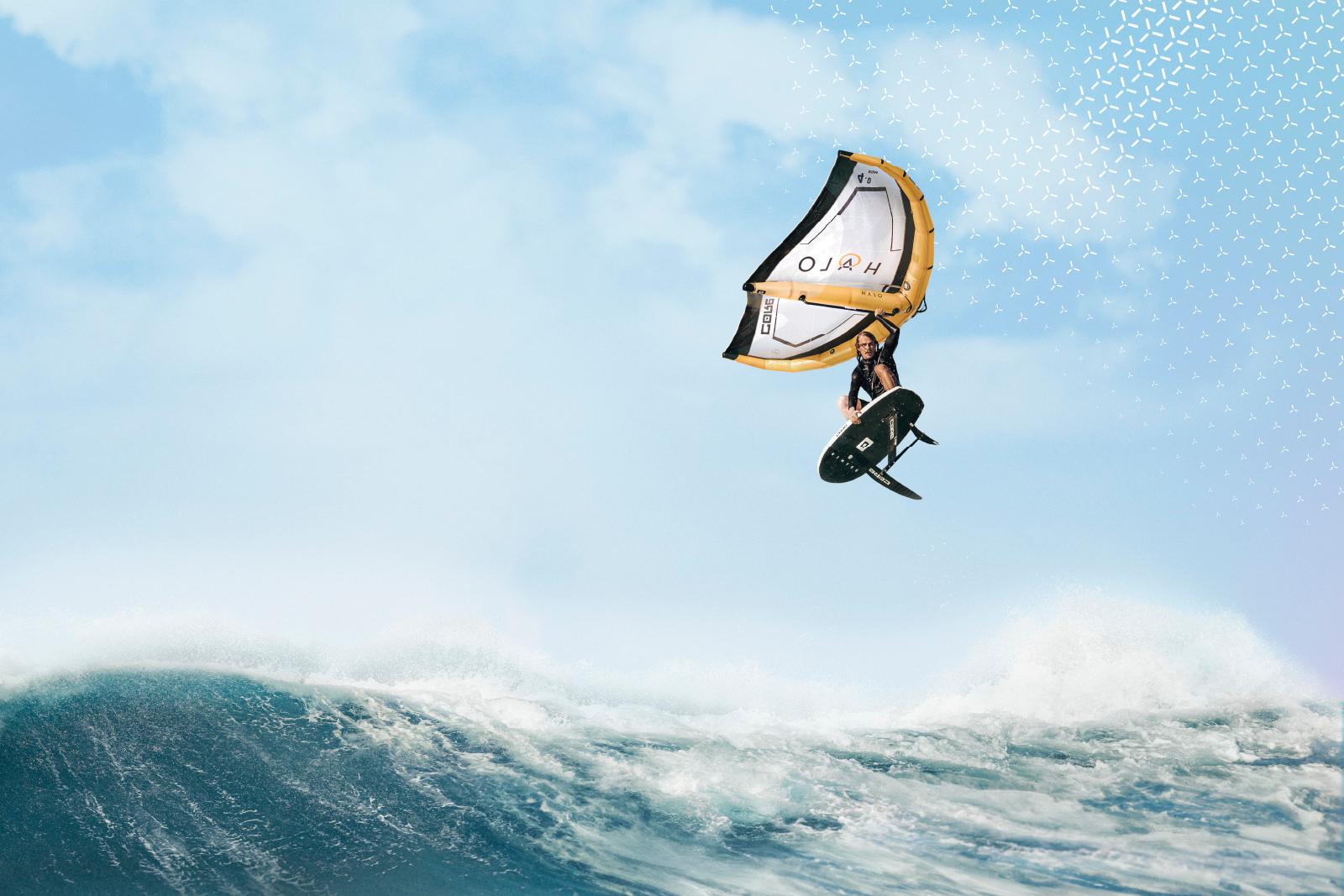 CORE expands its wingfoil range with an uncompromising high-performance wing with an Aluula airframe.
Just a year has passed since the inauguration of the remarkable CORE Wing Foil series, featuring the XC wing, Roamer board, and Spectrum foil. Now, CORE introduces the latest addition to this exceptional lineup - the High-Performance Wing Halo Pro. Using the highest quality materials and innovative construction, the Halo Pro allows you to perform completely new maneuvers and tricks. The high stiffness in combination with a flat profile enables an unexpectedly sporty driving style. Its low weight and intuitive controls ensure maximum control in all situations.
Extremely stiff and lightweight Aluula airframe.
The high stiffness of Aluula is a core component of the Halo Pro. At the same time with low weight, the Aluula was able to achieve thinner diameters in the strut structure, which hardly deforms even under high loads. This lets you pump the Halo Pro more directly, gives you an enormous amount of lift and hang time as well as a maximum direct flight feeling.

Continuous boom makes handling more intuitive
The continuous boom is the consistent further development of the two handles. The long grip surface makes familiar maneuvers more intuitive and new tricks possible. The EVA flooring guarantees a non-slip grip and comfortable grip. Underneath hides an ultra-light and extremely stiff full carbon construction, which leads to significant weight saving in addition to the two saved connectors.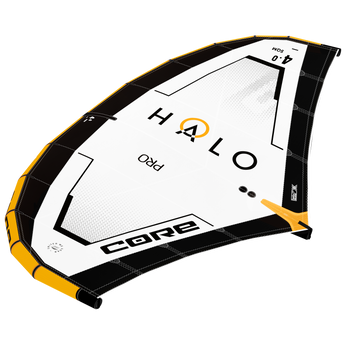 Maximum performance thanks to minimum elongation of Coretex 2
The key element contributing to the outstanding performance of the Halo Pro is its minimal profile elongation, especially during peak loads. This reduction in elongation ensures superior performance in various conditions. In the different canopy segments, the CoreTex 2 was sewn in the optimal running direction in order to achieve the highest performance. The extremely high tear resistance and very good UV protection, CoreTex 2 results as extremely durable.
Drifts phenomenally in the wave with easy hand change
In waves, the low weight of the Halo Pro unfolds its full potential. Not only does it drift behind its driver in a completely balanced manner, but it also makes it easy to change the leading hand when the course changes. Once the wave has been ridden, the boom allows you to find the right pressure point again without delay and leads you back to the next wave.
High jumps and huge hangtime
This is where the rigidity of Aluula comes into its own. From take-off to landing, the airframe retains its profile and thus allows not only unimagined high-altitude flights, but also enormous hangtime. The latter provides the rider with landings at a significantly higher speed, so that the foil can fly again immediately.
Flatter profile for more speed and agility
The Halo Pro has a slightly flatter profile than the all-rounder XC. On the one hand, this allows significantly more speed to be achieved, which leads to more dynamic take-offs. On the other hand, it gives the Halo Pro an unimagined agility that sets no limits to your creativity in all rotations of the wing or yourself.
Sizes
3.0 | 4.0 | 5.0 | 6.0

Key Features:
ALUULA AIRFRAME: direct pumping, enormous lift & hang time
CORETEX® 2 CANOPY: minimum elongation, maximum performance
CARBON BOOM: easy and intuitive handling
SPEED VALVE 2: ultra-fast inflating
DEFLATE VALVE: faster pack downs
CARBON BATTENS: provide optimal profile guidance


Important Links
20 Jahre Entwicklungskompetenz im Wassersport
Seit über 20 Jahren steht CORE für höchsten Anspruch an Qualität und Performance an seine Wassersportprodukte. Mit Sitz auf Fehmarn, dem Wassersport Hotspot Europas, werden Produkte vor Ort entwickelt und getestet, bevor sie von dem internationalen Pro Team an den anspruchsvollsten Spots der Welt auf ihre finale Bewährungsprobe gestellt werden. Exklusive Materialen, jahrzehntelange Entwicklungskompetenz und aufwändige Produktionsprozesse sorgen für ein besonderes Fahrgefühl, das nur CORE Kunden erleben.