CORE XR8
THE ULTIMATE HIGH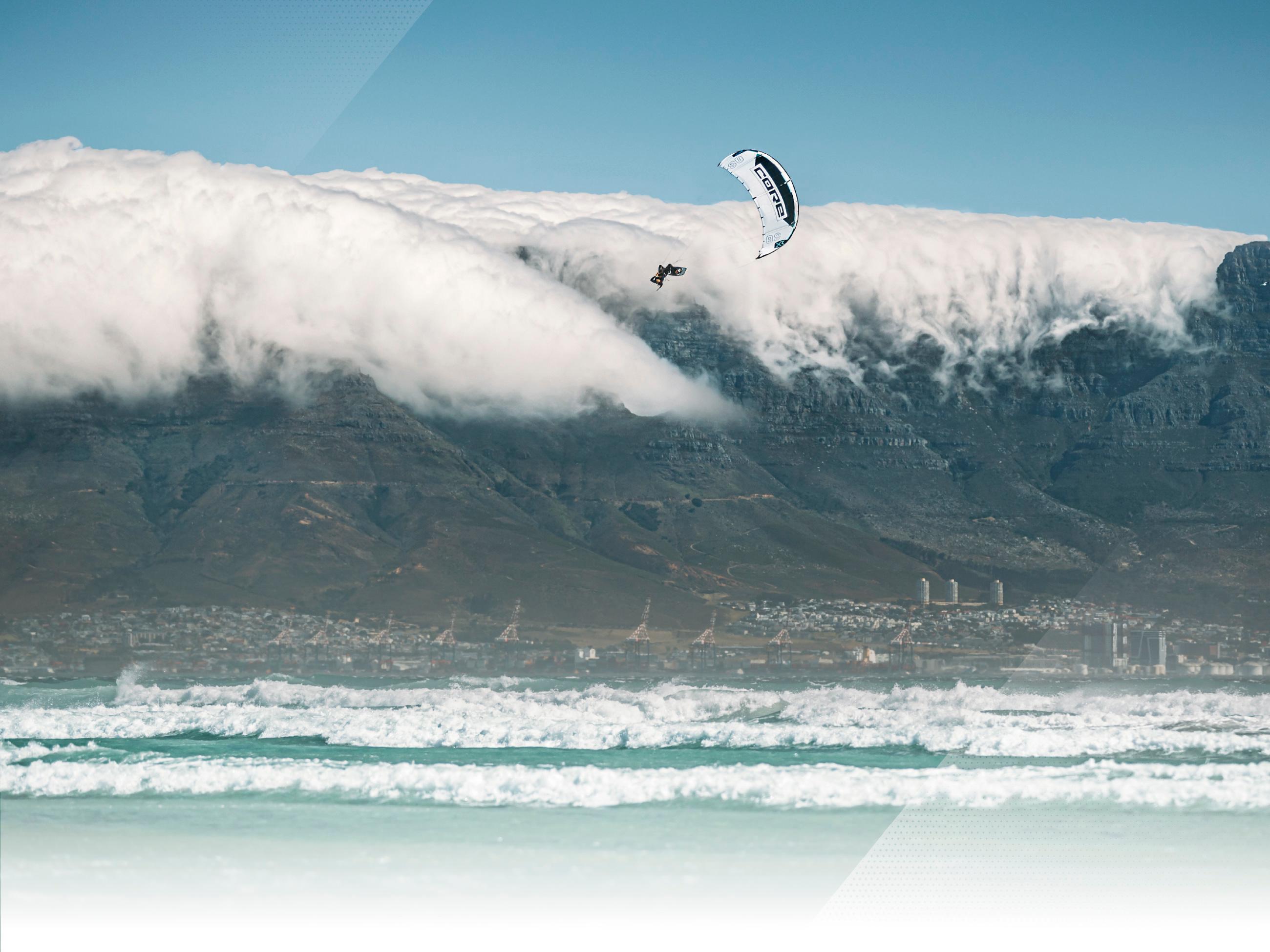 CORE Kiteboarding releases its highly anticipated eighth-generation flagship kite, the XR8 and XR8 LW – With a focus on high-performance freeriding, the XR8 features a newly designed airframe and upgraded high-performance dacron, resulting in improved performance values across the board.
Fehmarn, 09.05.2023
In CORE's model range, the XR8 stands for great performance combined with high riding comfort, making it a highly sought-after model in the market. This does not change in the latest generation. However, some flight characteristics have changed noticeably: Through targeted material and constructive revisions to the airframe, the development team has significantly
ExoTex 2 increases agility and explosiveness
Thanks to the significantly stiffer ExoTex 2 the entire airframe of the XR8 has been optimized. The high-performance dacron allows for a smaller leading-edge diameter, making the kite more agile and responsive with better bar feedback. In addition, the kite loops cleaner and catches the rider more reliably.
The secret behind Exotex 2: Even under the influence of extreme forces, a new fabric structure can effectively counteract stretching of the fiber in all directions. This stiffness increases upwind performance and explosive lift while also providing outstanding durability: Through an elaborate tempering and coating process, ExoTex 2 achieves an 80% increase in tear resistance while still being lighter than the previous material. The flight cloth is the particularly low-stretch CoreTex 2, just like in the predecessor model. With its improved properties compared to the previous cloth, it generates high flight stability, power, and control and high durability and robustness values.
Lighter yet more robust struts made of ExoTex Light
For the XR's decisive 5-frame frame, the development team chose ExoTex Light, a particularly lightweight yet robust version of ExoTex. The diameter has also been reduced here, noticeably improving agility. Thanks to an optimized bladder material, weight savings of an average of 150g compared to the predecessor could be achieved. The CIT attachment points have been revised and prevent bridles or lines from getting tangled.
Fascinating light wind performance with high ride comfort
The LW model have received the same optimizations in the material mix and construction as the smaller sizes. Thanks to weight savings and its lightweight construction, the XR8 LW stands even more confidently in the sky and goes upwind at an unprecedented angle. Even in the lower wind conditions riders can achieve solid jumps with decent hang time.
Sizes
5.0 | 6.0 | 7.0 | 8.0 | 9.0 | 10.0 | 11.0 | 12.0 | 13.5 | LW 15.0 | LW 17.0
Key Features:
New! EXOTEX® 2 ULTRA RIGID DACRON: ultra-rigid and robust Leading Edge
EXOTEX® LIGHT STRUTS: just as robust, but lighter and more revving
CORETEX® 2 TRIPLE RIPSTOP CANOPY: extremely high durability and optimal UV protection
5 STRUT FRAME: optimal stability in all flight positions
DELTA BOW SHAPE: more power and depower
INTELLIGENT ARC: finely controllable enormous power
CIT modes: flight character, bar forces and reactivity individually adjustable
INSTANT RELAUNCH: effortless water launches
SPEED PUMP SYSTEM: easy and fast ventilation
SENSOR BAR SYSTEM: optimal coordination of kite and bar system
6 YEARS PARTS GUARANTEE: replacement parts availability for an average kite lifetime.
TWO COLOR OPTIONS: BrightWhite10 and TechBlack10
20 Jahre Entwicklungskompetenz im Wassersport
Seit über 20 Jahren steht CORE für höchsten Anspruch an Qualität und Performance an seine Wassersportprodukte. Mit Sitz auf Fehmarn, dem Wassersport Hotspot Europas, werden Produkte vor Ort entwickelt und getestet, bevor sie von dem internationalen Pro Team an den anspruchsvollsten Spots der Welt auf ihre finale Bewährungsprobe gestellt werden. Exklusive Materialen, jahrzehntelange Entwicklungskompetenz und aufwändige Produktionsprozesse sorgen für ein besonderes Fahrgefühl, das nur CORE Kunden erleben.