CORE Pump 2.0 L/XL
The CORE Pump 2.0 is re-invented! Although our shiny new black pump features a longer barrel, ergonomic hand grips, a fatter hose and a redesigned base, its biggest innovation hides inside. Internal pump friction is virtually eliminated and our "Sand Guard" air filter prevents internal kite damage from sand inhalation. Although our kites do not need an adapter, we included one anyways for those "other" kites. Check out the innovations we built into this pump:

No strain pumping
Save your energy for the water. Innovative materials, seals and piston coatings have virtually created a frictionless pump. We even increased the diameter of the hose outlet to increase airflow and reduce pump strain.

Sand Guard
Sand belongs on the beach, not in your kite. So we built a foam air inlet filter into the handle. Why, you ask? To prevent sneaky sand from damaging your kite bladders and reducing pump efficiency.
Single to double stroke inflation switch
More pressure with the turn of a knob. The last few pumps are always the hardest with a 2 way pump. So we decided to give you the option to switch from traditional double stroke to single stroke pumping for the last bit of air.

digitally calibrated pressure gauge
Perfect pressure every time without guessing. The new digitally calibrated pressure gauge has a simple colour coded scale to make precise inflation a breeze.

Longer barrel, longer stroke for more air volume
We extended the barrel a few centimeters from the previous model to provide a more upright pumping posture. The additional length also increases pump volume with each stroke. Your back will thank you.

Ergonomic grips
Our longer, wider ergonomic grips make pumping a breeze. The grips contour to your palm and fingers so you can leverage your body weight without leaving marks.

Heavy duty pump tether with a nifty hook
Pumps are often neglected. So we built our new CORE Pump 2.0 to last. We even doubled the thickness of the tether and installed an oversized hook. Because we understand.
Price*
Kitepump 2.0 L
54,90 EUR
Kitepump 2.0 XL
59,90 EUR
*suggested retail price.

Pricing may vary.
---
---
Standard Loop
The small loop comes standard on the Sensor 3 and is designed for freeriders and freestylers who mostly ride hooked. The smaller loop size lowers the adjuster height, which benefits shorter riders. An elasticized chicken stick is easily manipulated to make hooking in faster. After hooking in, the chicken stick can be passed through the harness hook to avoid unintentional unhooking.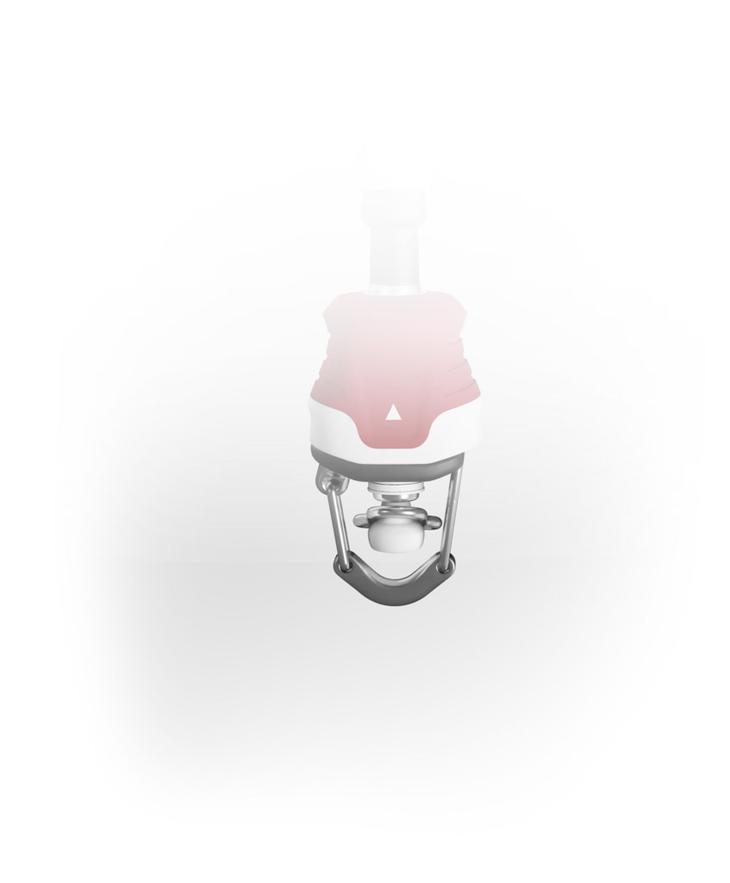 ROPE SLIDER
The Rope Slider loop is our recommended solution for wave and foil riders who use a rope harness. Its compact design brings the bar closer to the body and improves lateral movement without annoying harness slippage. To reduce friction and wear on the spreader bar rope, the metal surface of our loop is finely ground by hand. The Rope Slider is only intended for use with a sliding rope spreader bar. The safety ring can be attached in semi-suicide mode, so the leash's carabiner stays at the same level of the quick release and out of the way.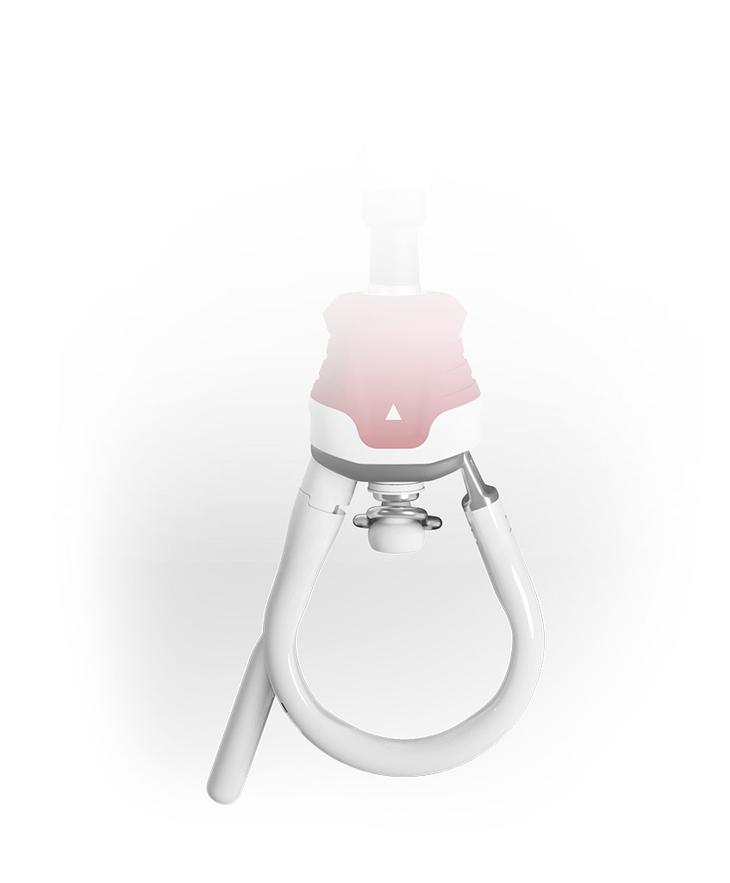 PRO LOOP
Radical wakestylers, freestylers, and unhooked kiters will prefer our largest available chickenloop. Its size makes unhooking and hooking back in easy and intuitive. Naturally, the distance to the trim adjuster increases, so you should keep that in mind. To prevent unintentional unhooking, use the chicken stick and when you don't need it, simply move it outside the loop where it won't get in the way.
Sensor 3 Loops
PRICE*
Sensor 3 & 3S Rope Slider
39,90 EUR
Sensor 3 & 3S Chickenloop, small
26,90 EUR
Sensor 3 & 3S Pro Chickenloop, large
34,90 EUR
*suggested retail price.

Pricing may vary.
---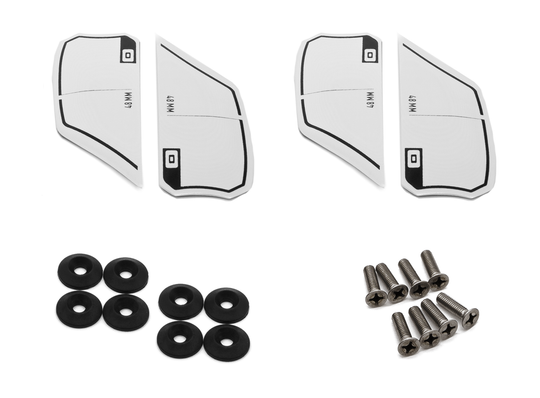 EQUALIZER 3 FIN SET
(48mm)
Our biggest fin, the Cutback, is designed for extreme grip in any conditions. Aim high, go big and let'r rip with this finely tuned G10 fin. G10 is a continuous filament, woven, fiberglass that we specifically use on all our fins for its super high strength and dimensional stability

Delivery includes
Fins (4 pcs.), screws and washers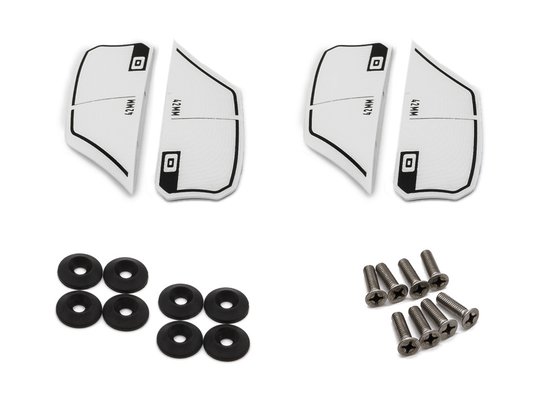 EQUALIZER 3 FIN Set
(42mm)
Our midsize G10 fin balances sure footed grip and playfulness. Not just for pros but for anyone ready to immerse themselves in all things freestyle. The Pro Fin. For easy stance switches, smooth recoveries and toothy grins.

Delivery includes
Fins (4 pcs.), screws and washers
Twintip Fins
PRICE*
Equalizer 3 Fin Set 42mm
89,90 EUR
Equalizer 3 Fin Set 48mm
89,90 EUR
*suggested retail price.

Pricing may vary.
---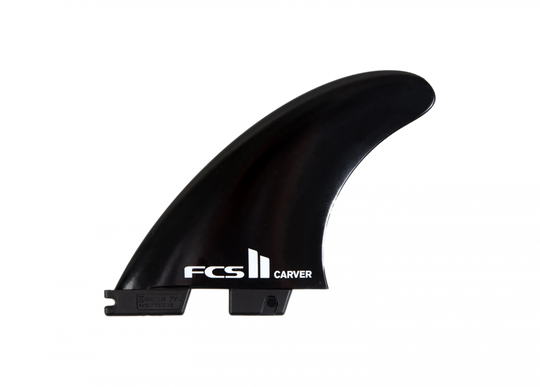 FCS II Carver GF Tri Set
Glass Flex Fin, large
The Carver allround fins feature a broad powerband and GF or glass flex construction. The injection molded design delivers powerfully controlled sweeping turns with speed and momentum. The large size handles loads of back foot pressure and rewards power surfers with down-the-line magic.

Delivery includes
Fin set (3 pcs.)
FCS II ACCELERATOR PC TRI Set
PERFORMANCE CORE FIN, LARGE
This high-quality all-round fin impresses with a perfect balance of speed, flow and response with added control. It is particularly suitable for medium to high skill levels and almost all conditions. Ideal for wave kiters who like to attack the wave, perform aggressive turns and surf overhead waves. The flex pattern in Performance Core fins extends progressively from the base through to the tip, helping the surfer to maintain drive and hold through a turn.

DELIVERY INCLUDES
Fin set (3 pcs.)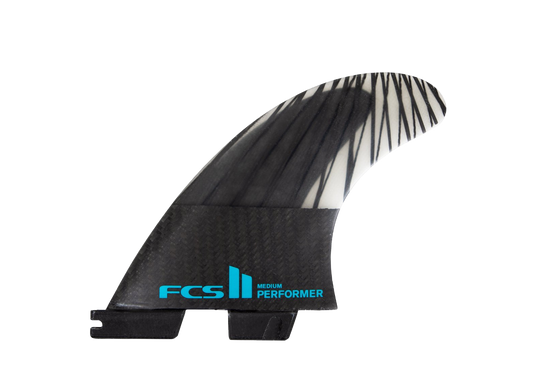 FCS II Performer PC Carbon Tri Set
Performance Core Carbon Fin, Large
The PC Carbon fins are the ultimate choice for your CORE board. Strategically placed carbon fiber filaments give the tips a superior flex pattern and memory. Experienced riders will feel the added control, response, and flow when loading the fins, especially on critical sections of the wave. And aggressive riders will prefer the powerful, explosive style of the slightly oversized allround shape.

DELIVERY INCLUDES
Fin set (3 pcs.)
SURFBOARD FINS
PRICE*
FCS II Carver L Glass Flex Wave Surfboard Thruster Fin Set
49,90 EUR
FCS II Accelerator L Performance Core Wave Surfboard Fin Set
104,90 EUR
FCS II Performer L PC Carbon Wave Surfboard Fin Set
129 EUR
*suggested retail price.

Pricing may vary.
---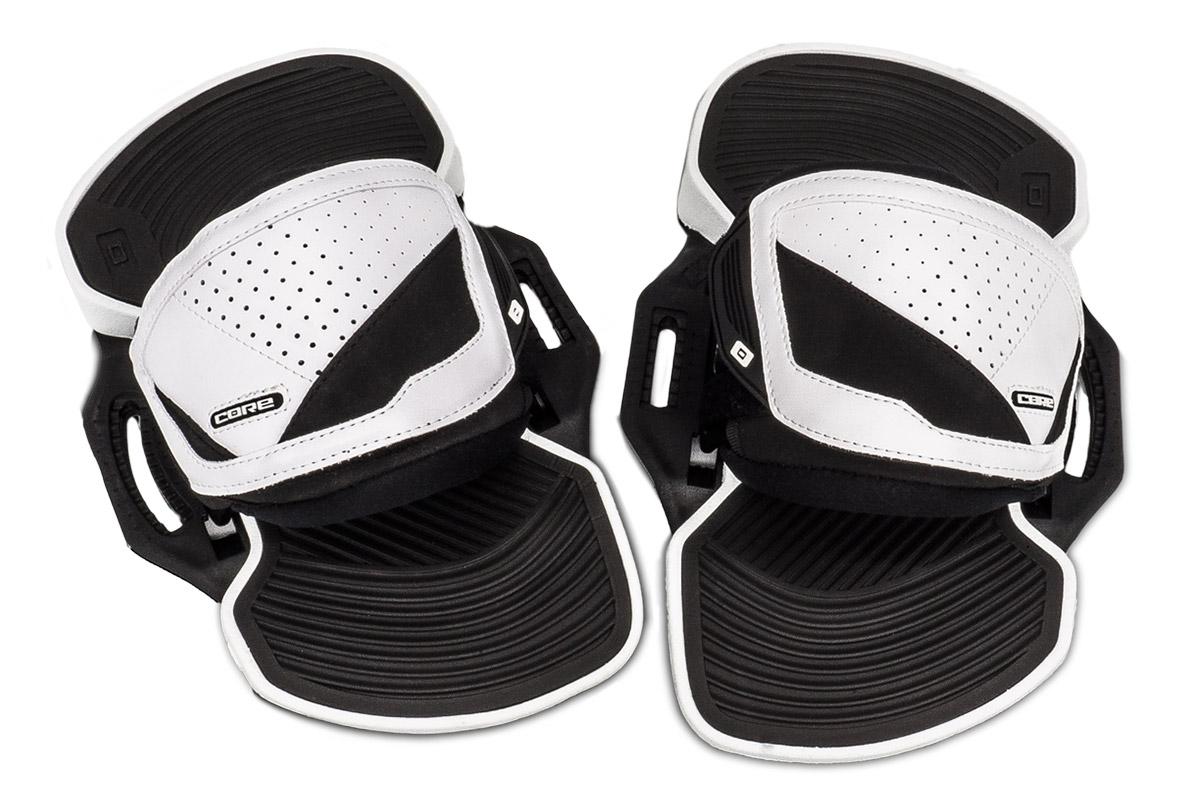 Union Pro
M/L
Introducing our new Union Pro pads & straps. Now with an articulating split strap and ridiculous customization options. What? Our engineers split the strap to give independent form-fitting adjustability to your forefoot and midfoot. Each half of the split straps is independently micro adjustable with its own set of velcros. You can adjust the angle of your feet 11 different ways to lock in your preferred stance and move your pad closer or further away from the board edge. The strap also sports 2cm of pad adjustability fore and aft to accommodate all foot sizes. We know, that's an insane amount of customization. We just want to make sure it fits everyone.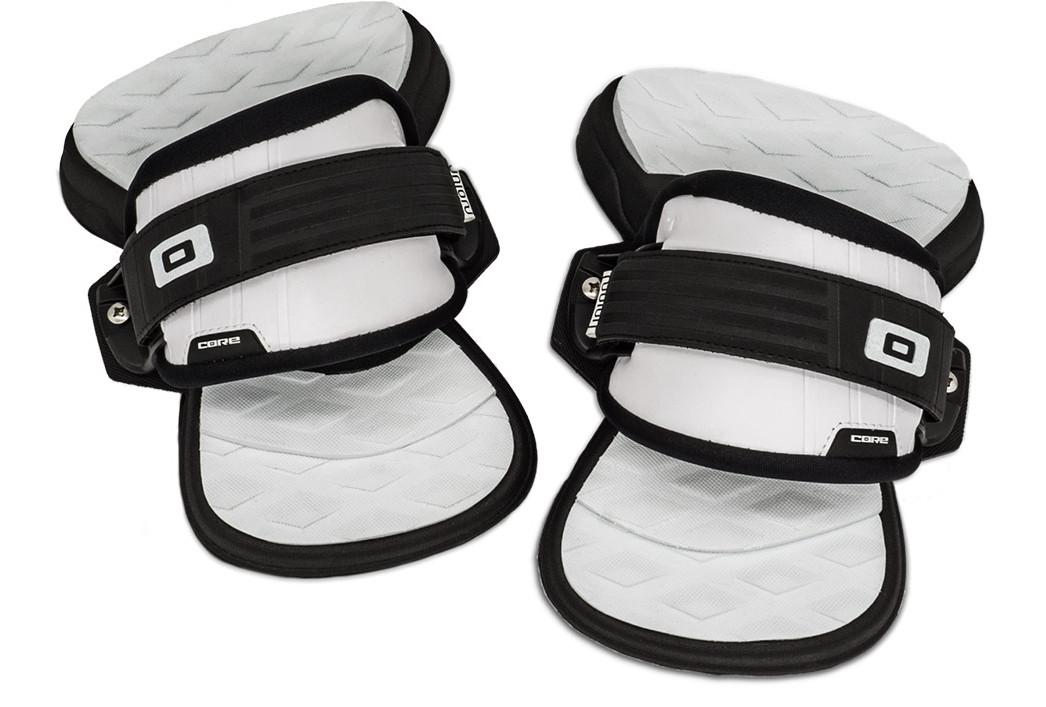 UNION Comfort
One Size
Basic yet essential for maximum stoke. The newly developed, ergonomic, shock absorbing, foot pad will give you the confidence to push your limits. The "Diamond Wedge EVA" memory foam, "toe grabber" footbed, and single Velcro strap will hold you firmly and comfortably in all conditions.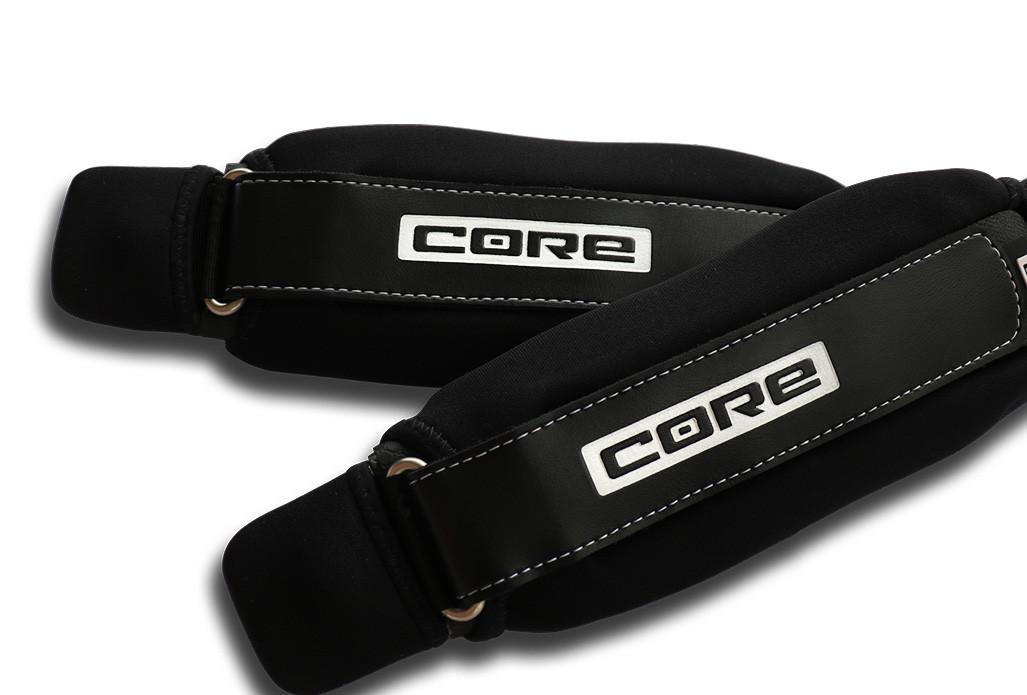 Surf Straps
There if you need 'em. The CORE Strap set features two super comfortable Velcro straps, four V2A stainless steel screws, and four V2A anti-twist plates with variable screw positions. Our fully adjustable straps feel great in bare feet or booties with just the right amount of support. Need a little confidence on those big waves? Try CORE straps next time.
DELIVERY INCLUDES
Straps, screws and washers
Pads & Straps
Price*
Union Pro 4 Boardset Pads & Straps Large
229 EUR
Union Pro 4 Boardset Pads & Straps Medium
229 EUR
Union Comfort 2 Boardset Pads & Straps
179 EUR
Surf Straps for Waveboards (set of 2)
74,90 EUR
*suggested retail price.

Pricing may vary.
---
REVO NEW!
Quick on-the-fly rocker adjustment. Need less rocker for getting upwind faster? Or more rocker for your newest tricks? No problem with REVO, a clever rocker adjuster integrated into our grab handle. A quick turn of the handle activates REVO. Rocker is reduced 15mm, flattening the twintip and reducing its flex. This leads to a significant increase in planing and upwind performance.

price*
Grabhandle REVO
119 EUR
*suggested retail price.

Pricing may vary.
---
Traction Pads 2020/21 Surf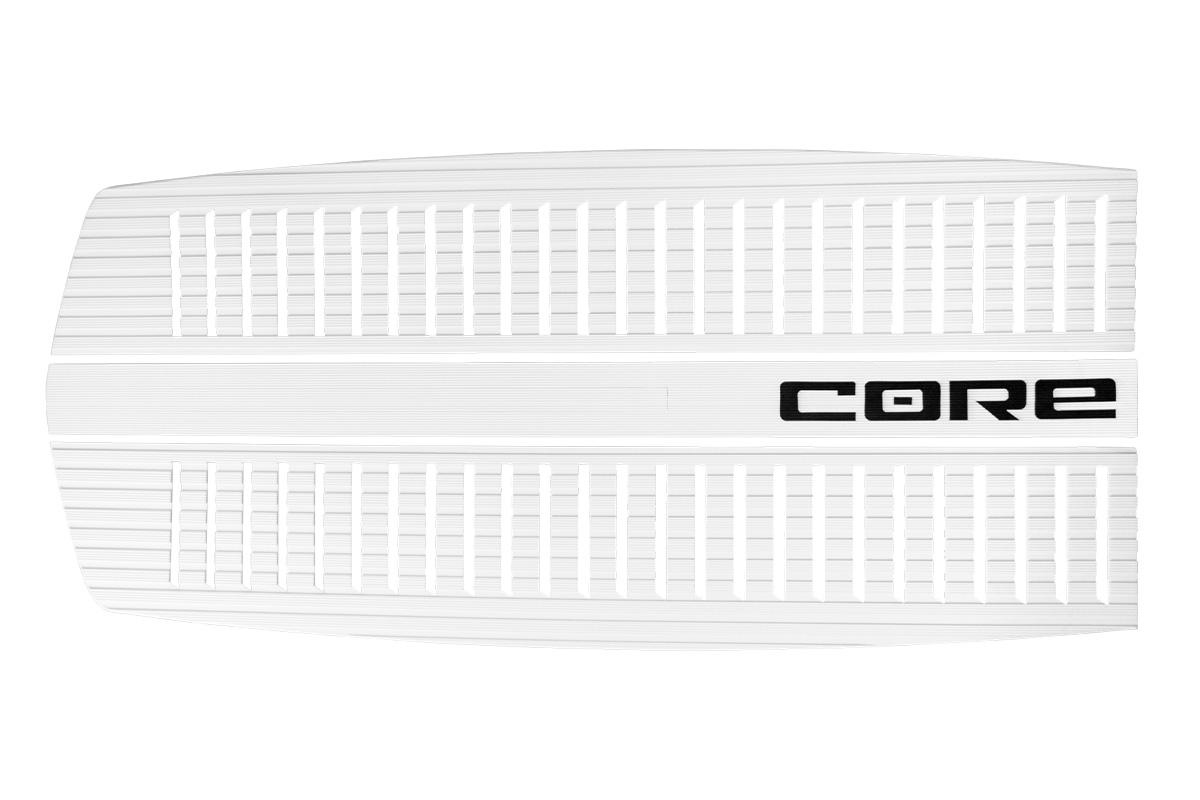 Front Traction Pad
Fantastic, comfortable waxless grip. Deeper, grooved profiles provide extreme grip. And precise edge bevels ensure your pad stays put. New, longitudinal channels provide your fingers with even more grip and board control for easy, one-handed strapless airs. We've eliminated last year's center pad and incorporated it into our minimalistic front pad design that extends from the tail pad forward. The self-stick front pad is compatible with all current and prior CORE surfboards. Enjoy waxless comfort when you #gokiting.
(Includes recesses for the front strap inserts.)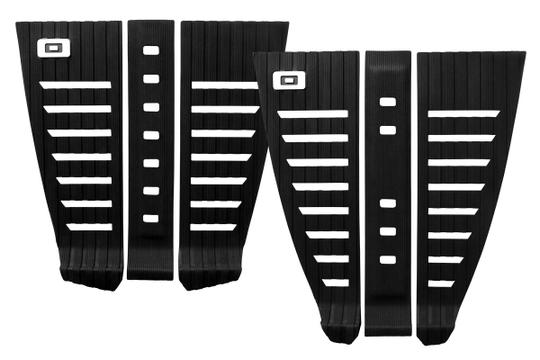 Rear Traction Pad
Fantastic grip. Ergonomic arch. And comfortable, soft grip. Our new pad features deeper grooved profiles and precise edge bevels to ensure your pad stays put. The less pronounced spine lets you move around while still giving you enough haptic feedback. Vertical and longitudinal shaping provides a nice balance between control and comfort. The three-piece self-stick pad is included with every surfboard. Please note that we sell a narrow version for our Ripper / Green Room models and a wider version for our 720.
(Includes recesses for the rear strap inserts.)

Traction PADS SURF
PRice
Ripper 4, Green Room 2, 720 II Traction Pad CENTER + FRONT
84 EUR
Ripper 4, Green Room 2 Traction Pad REAR
64,90 EUR
*suggested retail price.

Pricing may vary.
---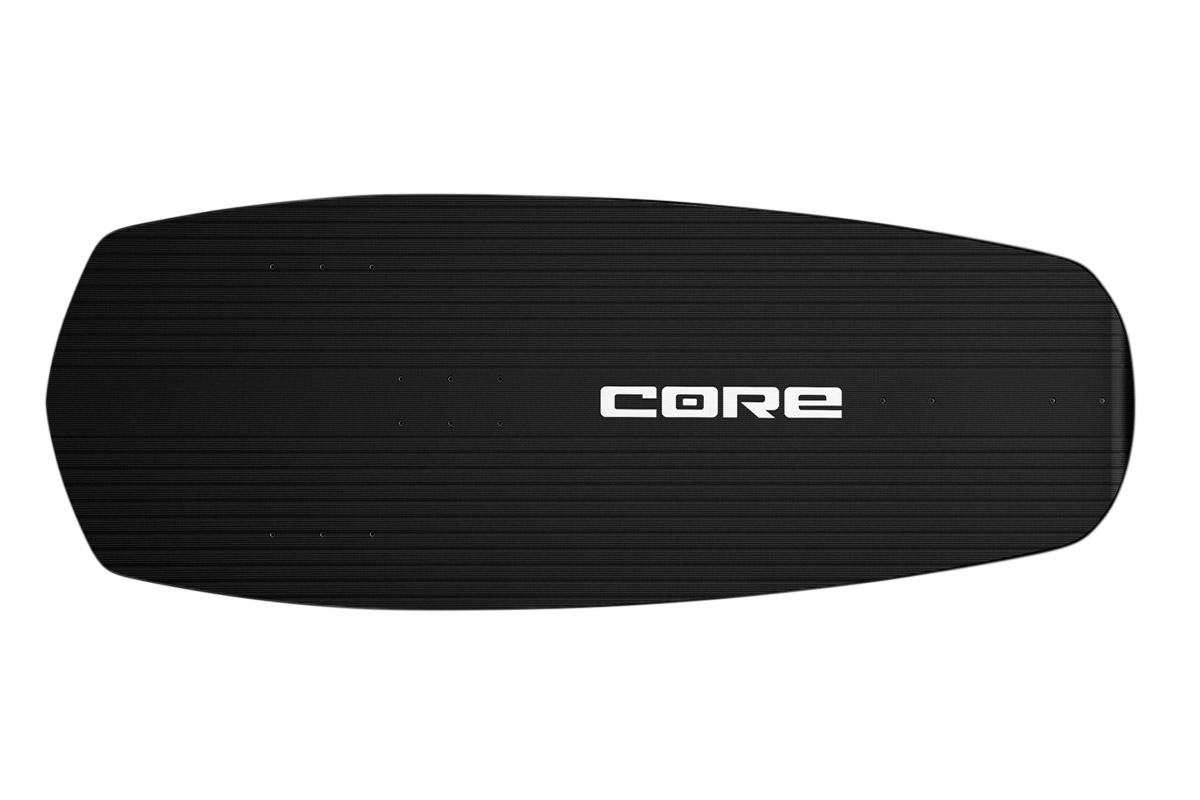 SLC Traction Pad
Full length, waxless grip. Deep, grooved, longitudinal channels provide extreme grip and hours of barefoot comfort. Our minimalistic front pad design covers almost the entire board so you have a lot of real estate to play on. And it features a small foil kicker that provides excellent feedback to your back foot. The self-stick pad lines up nicely over your strap inserts so you don't have to drill any holes if you choose to go strapped. Please note, they come in three sizes to perfectly match your board.
Sizes:
S for the 115cm SLC
M for the 125cm SLC
L for the 135cm SLC
---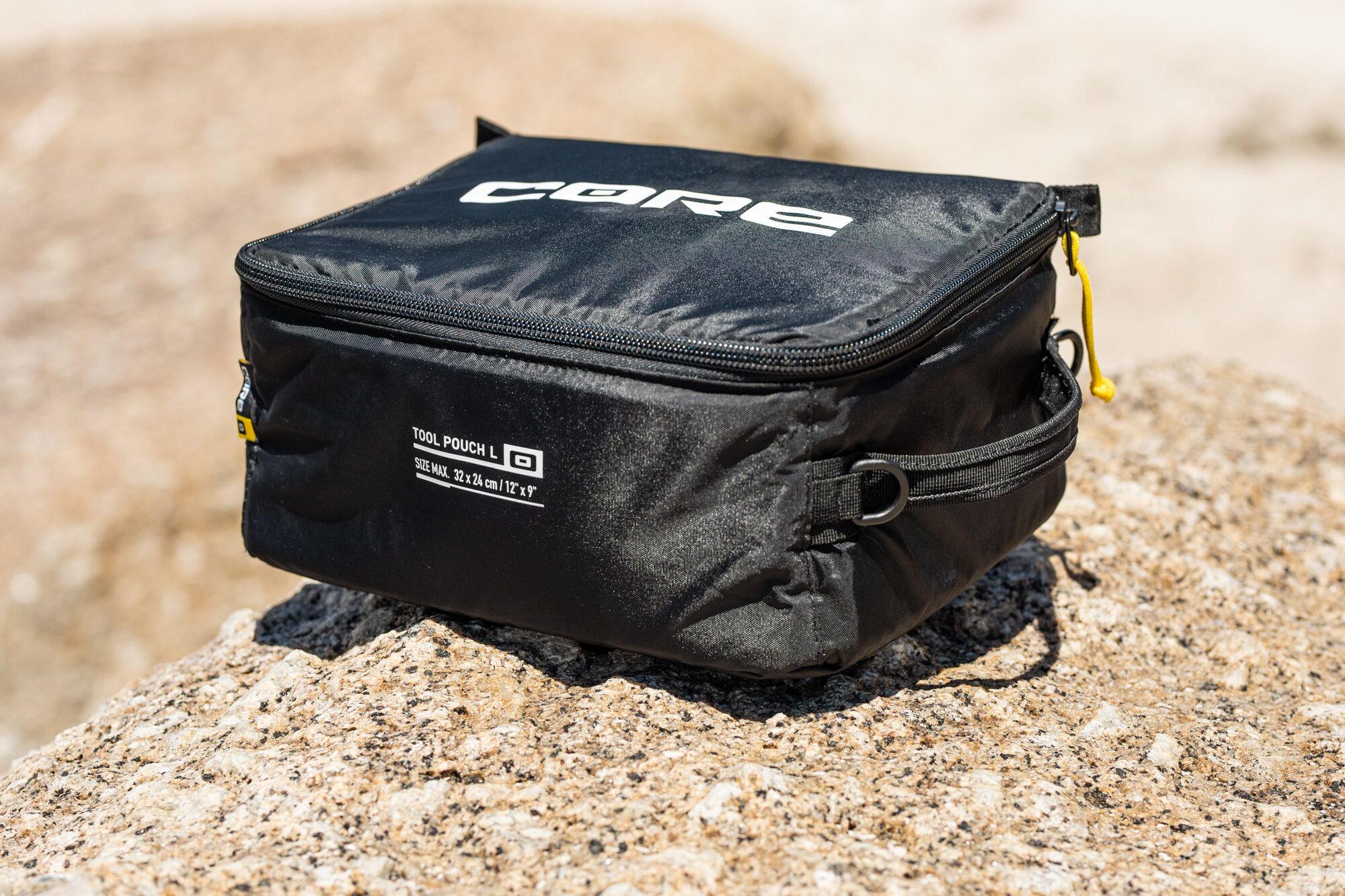 A KITER'S TOOLBOX
Every kiter needs a practical bag for their kite accessories, tools, fins, leashes, wax, and loops. Two inner pockets secure screws and small parts. And thick padded walls keep your lunch and beer cold too ;)
Dimensions: approx. 32 x 24 x 16 cm / 12 x 9 x 6 inches
Volume: ca. 12 Liter / 730 cubic inches
Weight: ca. 0,35 kg / 0,77 lbs
Optimal protection: 10mm PE foam padding provides excellent protection and insulation while maintaining its shape.
Inner pockets: Two transparent inner pockets is perfect for small parts, screws, etc.
420 HD Nylon: Our lightweight nylon features an extra-strong weave and unique finish to significantly improve tear-resistance and sensitivity to dirt over conventional polyester fabrics.
PE Foil Fabric: Light, waterproof, and cleanable inner lining.
#10 YKK Racquet Coil Zipper: Our extra strong spiral zipper is designed for heavy-duty applications where abrasion resistance is critical.
PRICE*
Tool Pouch Large
44,90 EUR
*suggested retail price.

Pricing may vary.
---
DRY BAG FOR WETSUITS
A robust multi purpose bag, which carries not only your wetsuits to and from the spot. Prevent your car from salty stains thanks to the waterproof sealed seams. The rigid PVC fabric keeps the bag in shape and ensures easy cleaning.
SPECS
Size: ca. 55 x 35 x 35 cm / ca. 22 x 14 x14 inches
Weight: ca. 1kg
FEATURES
Adjustable straps to carry it over your shoulder or by hand
Spacious mesh pocket to store your smaller pieces or accessories
Slim outside pocket including a key-hook and a handy beach wallet
PRICE
Wetsuit Bag
69,90 EUR
*suggested retail price.

Pricing may vary.
---
* suggested retail price. Pricing may vary.